The Accu-turn AB4400 wheel balancer is designed for the medium volume, busy shop. The model AB4400 comes standard with a 19&quot TFT display monitor. Use QSP to quickly select the 3 most used programs to reduce errors and aid in weight placement. Complete wheel spins in 8 seconds! Hold the tire in place with the foot brake and easily remove the tire with quick lock. A full range of adapters for passanger cars and light trucks, makes this balancer the complete package!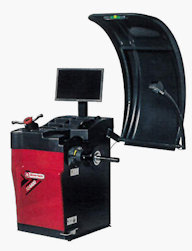 Features of the AB4400
19&quot TFT display monitor
2D Input of data
8 second cycle time
Accurate to 1 gram
40mm Shaft
Service passenger, light truck, and motorcycle wheels
Quick Lock wing nut and QSP
Dynamic, Static
2 year parts and labor warranty
Standard Accessories - AB4400
40mm Shaft
Pressure cup with rubber ring
Centering flange
5 Cones - for passenger car and light truck
Spacer for SUV/LT wheels
Wheel weight plier
Wheel caliper
Calibration weight
Weight scraper
Quick Lock wing nut
Technical Specifications - AB4400
Power Supply: 110V, 1Phase, 50/60Htz
Balance Speed: 218-262 RPM
Max Wheel Weight: 176 lbs.
Max Wheel Diameter: 42"
Max Wheel Width: 19"
Rim Diameter: 6-40" by Hand 10-30" Automatic
Rim Width: 1-24"by Hand 1-16" Automatic
Accuracy: 1 gram
Measuring Time Max: 8 seconds
Dimensions (WxDxH): 38"x54"x75"
Software Languages - AB4400 Only
Italian, French, English, German, Spanish, Portuguese, Czech
Polish, Hungarian, Slovenian, Dutch, Serbian, Finnish, Turkish
Croation, Swedish, Lithuanian, Russian, Israeli, Bulgarian
Slovak, Danish, Persian, Japanese, Icelandic